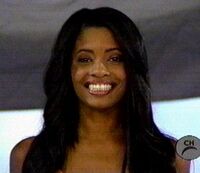 Zubaybah Donaldson appeared as a Barker's Beauty on The Price is Right from November 16th to December 8th, 2004 for a total of 15 episodes.
"Price" Career
Edit
On the December 2nd episode, Zubaydah was given a rare opportunity as she got to display her vocal talents in a "Rappin' Zubaydah" showcase.
She also appeared in the 2005 rap music video Whisper by the Ying Yang Twins.
YouTube Video
Edit
Ad blocker interference detected!
Wikia is a free-to-use site that makes money from advertising. We have a modified experience for viewers using ad blockers

Wikia is not accessible if you've made further modifications. Remove the custom ad blocker rule(s) and the page will load as expected.