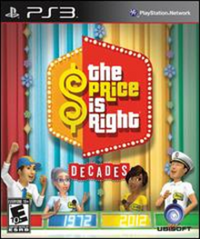 Come On Down! Take a trip back to memory lane!
The Price Is Right Decades retains all of the treasured game play elements found in previous The Price is Right games, including classics such as 'Plinko,' 'The Big Wheel' and the popular 'Showcases,' but also features never-seen before pricing games!
Additionally, a new twist awaits all players: you will have to guess the non-adjusted pricing of randomly selected items from different decades!
Ad blocker interference detected!
Wikia is a free-to-use site that makes money from advertising. We have a modified experience for viewers using ad blockers

Wikia is not accessible if you've made further modifications. Remove the custom ad blocker rule(s) and the page will load as expected.