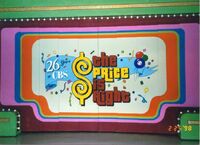 The Big Doors are the most vital part of the set; they're the ones that house the prizes offered in most pricing games (such as Most Expensive, Danger Price, Swap Meet, One Right Price and Switch?) and the Showcases. Sometimes the doors house IUFBs (items up for bids). Futhermore, the middle doors double as an entrance for the host to go through after the first contestants were called to "Come on Down" (the 1994 Davidson version had Doug come through the doors after the intro). Occasionally, games such as 3 Strikes, Golden Road, Pocket Change and Plinko would take place in front of the middle doors and covered by either curtains, the big drape, or The Giant Price Tag; if this happens, the host will usually enter through the audience, so as to not give away the game.
Host Entrances
Edit
Bob Barker September 4, 1972-June 15, 2007; April Fools 2015Edit
Decades Week
Edit
Custom photos
Edit
Bob Barker's Doors
Edit
September 4, 1972-June 12, 1973
June 22, 1973-August 15, 1975
August 19, 1975-June 14, 1996
September 9, 1996-June 13, 2001
September 24, 2001-June 27, 2002
September 24, 2002-June 27, 2006
September 18, 2006-June 15, 2007
Drew Carey's Doors
Edit
October 15, 2007 (aired out of order on October 16)-July 17, 2008
September 22, 2008-August 14, 2012 (aired out of order on August 17)
August 17, 2012 (aired out of order on September 4)-September 22, 2014
September 22, 2014-present
Intro Walls
Edit
Ad blocker interference detected!
Wikia is a free-to-use site that makes money from advertising. We have a modified experience for viewers using ad blockers

Wikia is not accessible if you've made further modifications. Remove the custom ad blocker rule(s) and the page will load as expected.