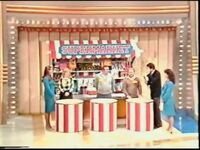 This was the UK version's 1st replacement for The Big Wheel.
In this game, the three contestants who have won their way up on stage and played their pricing games picked four grocery items or products within a 15 second time limit. The contestant whose products total the closest to £20 higher or lower advanced to the Showcase round. In case of a tie, one final item was brought out, and the tied players bid on what the price was. The player who came the closest higher or lower was the winner.
This all came about because outraged English TV programmers hated the idea of having a game of luck, chance or skill on this game show. The show had to go on hiatus because of this and other reasons.
Ad blocker interference detected!
Wikia is a free-to-use site that makes money from advertising. We have a modified experience for viewers using ad blockers

Wikia is not accessible if you've made further modifications. Remove the custom ad blocker rule(s) and the page will load as expected.