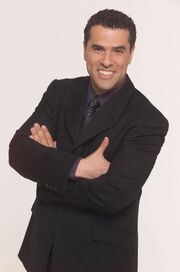 Marco Antonio Regil (born December 27, 1968) is a Mexican television personality and game show host, born in Tijuana, Mexico. He began his career as a Radio D.J. when he was 15 years old.
He hosted several game shows in Mexico including Atínale al Precio, the Mexican version of The Price is Right before hosting one show in America which was ¿Que Dice la Gente?, a Spanish version of Family Feud.
Ad blocker interference detected!
Wikia is a free-to-use site that makes money from advertising. We have a modified experience for viewers using ad blockers

Wikia is not accessible if you've made further modifications. Remove the custom ad blocker rule(s) and the page will load as expected.