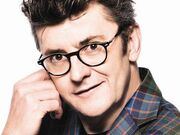 Joseph Ellis Pasquale (born 20 August 1961) is an English comedian, actor and television presenter, known for being crowned "King of the Jungle", in the fourth series of I'm a Celebrity...Get Me Out of Here! in 2004.
In January 2013, Pasqaule became one of twelve celebrities participating in the eighth series of Dancing on Ice, with skating partner Vicky Ogden. The following year Pasquale participated in the show again in an All Stars series. This time he was partnered with Robin Johnstone.
Pasquale is known for the naturally high pitch of his voice which he uses to heighten the comic value of his jokes.
He has also hosted the revived version of the game show The Price is Right.
Ad blocker interference detected!
Wikia is a free-to-use site that makes money from advertising. We have a modified experience for viewers using ad blockers

Wikia is not accessible if you've made further modifications. Remove the custom ad blocker rule(s) and the page will load as expected.