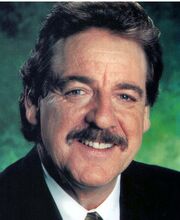 Ian Bruce "Turps" Turpie (6 November 1943 – 11 March 2012) was an Australian television personality, best known for hosting the long-running game show The New Price Is Right.
He also hosted other shows like Press Your Luck & Supermarket Sweep.
On 18 February 2011 it was announced that Turpie had been diagnosed with throat cancer. He died on 11 March 2012, aged 68.
Turpie was married to his wife Jan for 44 years and had three children and three grandchildren.
Ad blocker interference detected!
Wikia is a free-to-use site that makes money from advertising. We have a modified experience for viewers using ad blockers

Wikia is not accessible if you've made further modifications. Remove the custom ad blocker rule(s) and the page will load as expected.