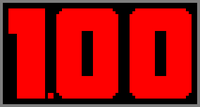 Shown below are the numbers on the Big Wheel used in the Showcase Showdown. The values include all multiples of 5 cents, from 5 cents to $1.00, in the following order: 5, 1.00, 15, 80, 35, 60, 20, 40, 75, 55, 95, 50, 85, 30, 65, 10, 45, 70, 25, 90. The wheel is set to $1.00 at the beginning of the Showcase Showdown, and to 5 cents before any bonus spin.
The 5-cent and 15-cent sections are painted green, and the $1.00 value is marked in red glitter. The green coloration was not added until December 12, 1978 (#3072D, aired out of order on December 14).
Ad blocker interference detected!
Wikia is a free-to-use site that makes money from advertising. We have a modified experience for viewers using ad blockers

Wikia is not accessible if you've made further modifications. Remove the custom ad blocker rule(s) and the page will load as expected.