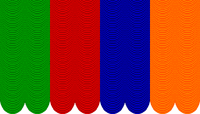 The Audience Curtains are located behind where the audience members sit. There were a set of 4 different colors that go in a certain pattern. When The Price is Right premiered on September 4, 1972, there was only one color, but since September 8, 1975 (#1581D, aired out of order on September 11), multiple colors have been added. The curtain colors were red, green, blue and orange from October 23, 1980 (#3834D) until October 23, 2001 (#1912K). From September 8, 1975 (#1581D, aired out of order on September 11) until October 22, 1980 (#3833D) and from October 24, 2001 (#1913K) until June 15, 2007 (#4035K), the color curtains were red, green, blue and yellow. Since the 36th season, there were only three colors on the audience curtains instead of four. From October 15, 2007 (#4041K, aired out of order on October 16) until August 17, 2011 (#5623K, aired out of order on August 19), the colors were light orange, yellow and light blue. From September 19, 2011 (#5631K) to May 13, 2016 (#7535K), it had the primary colors of red, yellow and blue. From the February 2016 taping, the blue light columns are installed in front of the audience curtains, and since March 2016 taping, the audience curtains are solid blue, and blue light columns became orange, in addition, the strings of hypocycloid diamonds on the curtains have been removed, and the curtains are now adorned with Goodson-Todman asterisks in various colors and sizes.
Ad blocker interference detected!
Wikia is a free-to-use site that makes money from advertising. We have a modified experience for viewers using ad blockers

Wikia is not accessible if you've made further modifications. Remove the custom ad blocker rule(s) and the page will load as expected.