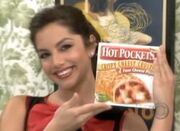 Ashley Tigh Guerrero (born 1979) is a Latin/Hispanic/American Model, actress, singer/dancer, and appeared briefly as a model on The Price is Right as she was one of the first to join under the tenure of then-new host Drew Carey.
There is a whole lot more to Ashley Guerrero than join beauty and talent. She is very athletic, skilled in Volleyball, trick riding, archery, and even boxing. She is also an experienced Horse trainer and is extremely competitive and enjoys taking on new challenges.
Guerrero also speaks Spanish and has an Australian and a Southern Texan accent. Very early on, Ashley was destined for a career in the entertainment field as she worked hard to turn her dreams into a reality.
One of her many loves was music as she began auditioning for music and dancing gigs for Hip Hop, Line, Modern, Square, Club/Freestyle, Swing, Salsa dancing. Ashley also began auditioning for modeling gigs, modeling for various companies including Tinta Latina, Range Rover, Honda Pilot, California Speedway, and La Rue Clothing.
Guerrero kept busy, busy, busy as her resume' continued to grow. She also auditioned for TV gigs including landing spots in various TV commercials including ESPN, McDonalds, Ford Focus, and Allstate.
Ashley continued to land gigs in music, modeling, and television. She first gained TV fame as a Game Show model by joining ranks as a model on The Price is Right, appearing from February 5-12, 2008 for a total of 6 episodes. From there, Guerrero moved onto to successfully land other TV and movie gigs. She's landed roles in movies including Barry Munday, Catch the Wind, and Hazard. Ashley has also worked in theater as she appeared in theatrical productions of Grease and Dracula.
She also continued working in the music field as she's performed for various music venues across the country and appeared in music showcase with music superstars including the band N'SYNC and Dru Hill.
Today, Ashley currently appears as a competitor on the ABC reality show The Quest and is ready to show the world just how competitive she is as her competitive spirit from from her hosting game nights with her friends. Guerrero currently resides in Murrieta, California.
Ad blocker interference detected!
Wikia is a free-to-use site that makes money from advertising. We have a modified experience for viewers using ad blockers

Wikia is not accessible if you've made further modifications. Remove the custom ad blocker rule(s) and the page will load as expected.