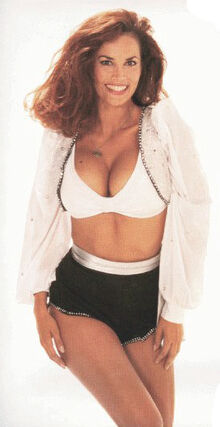 Annette Marroquin is an American Model, Actress, former Cheerleader and Wrestler. She appeared as a Barker's Beauty during model tryouts beginning Season 22 of The Price is Right and again during Season 24.
For 11 years, Annette was one of the Raiderettes, cheering for the Los Angeles & Oakland Raiders.
She also appeared on the TV series GLOW: Gorgeous Ladies of Wrestling, she was Jungle Woman.
Marroquin first appeared as a Model (the chip girl) for the failed Game Show Pilot Split Decision with Jim McKrell (not to be confused with the retired pricing game of the same name) before appearing as one of Barker's Beauties on The Price is Right during model tryouts.
Annette was one of the very first to audition to be the new Barker's Beauty (replacing 18-year veteran Dian Parkinson) as her first string of tryout episodes ran during the month of October 1993. She was invited back to the show for several weeks the following season when Gena Lee Nolin, whom the producers selected as the permanent model, departed from the show to become a series regular on Baywatch, as the fourth spot was rotated between Annette and Cindy Margolis.
Ad blocker interference detected!
Wikia is a free-to-use site that makes money from advertising. We have a modified experience for viewers using ad blockers

Wikia is not accessible if you've made further modifications. Remove the custom ad blocker rule(s) and the page will load as expected.