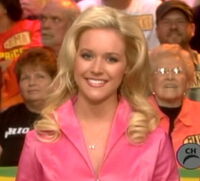 Aly Sutton is an American Model and Country Music Artist who can really rock your boots off!
Early Life
Edit
She was raised in Marietta and attended the University of Georgia where she was a Football cheerleader for the Dawgs.
Game Show Career
Edit
After graduation, Aly moved to Los Angeles and modeled as a Barker Beauty on The Price is Right for ten episodes (February 28th-March 27th, 2006) and was also the model on the Beat the Clock episode of Gameshow Marathon.
Singing Career
Edit
In 2006, Aly returned to the South to focus on her singing career and claimed Nashville as her home.
Sutton performed at the Mtn. Country Music Festival alongside Carrie Underwood, Gretchen Wilson, LeAnn Rimes and Jeff Foxworthy. Sutton was called back to the television screen and made an appearance on The CW's One Tree Hill. This past year, Sutton stared in two films Promise Land and Feast of the Vampires soon to play the independent film circuit.
Personal Life
Edit
Currently, you can check out myspace.com/alysutton or alysutton.com for Sutton's upcoming shows and projects. You can also enjoy Sutton's music at ViettiVinly.com.
Ad blocker interference detected!
Wikia is a free-to-use site that makes money from advertising. We have a modified experience for viewers using ad blockers

Wikia is not accessible if you've made further modifications. Remove the custom ad blocker rule(s) and the page will load as expected.